I spoke about AIDS in an
earlier post
. Was stoked to score this on Ebay a few months ago as it is pretty hard to come by. That said I have seen it pop up a few times. Definitely happy to have this as I really like the way they pull off their brand of fast hardcore.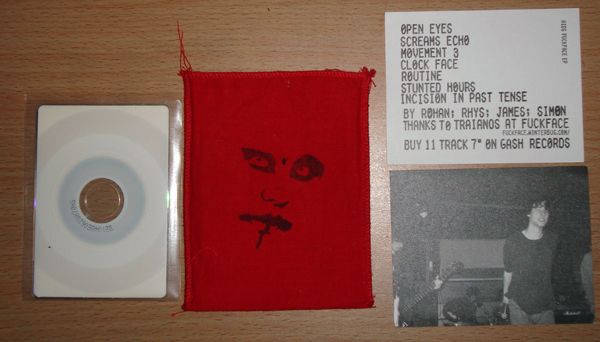 The 'Fuckface' CDR put out by the now defunct (or at least very very quiet)
Fuckface Records
in 2003. My copy is part of the machine stitched red fabric sleeve with hand stamped face edition of 100. Another 25 exist in yellow envelopes and the material here was also pressed to flexi in 2004 and limited to 40 copies. I have missed out on the flexi version a couple of times on Ebay as it tends to blow up way outside what I am willing to pay. Unsurprisingly the songs here are very similar in style and structure to the material on the Infection CS (recorded a year earlier). Extremely fast hardcore. One major difference is the vocals are shared between members on this release due to the departure of the former singer and as such vary depending which member is emptying their lungs. You can read more about this release at the bassist Rohan's blog
here
.